The Flickering Myth writing team react to the new Avengers: Infinity War trailer…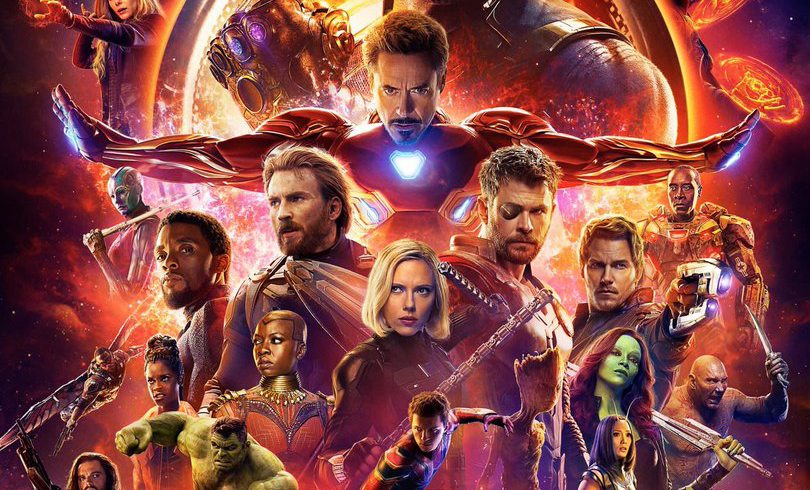 Marvel Studios whipped fans of the Marvel Cinematic Universe into a frenzy yesterday with the release of a brand new trailer for April's superhero epic Avengers: Infinity War. The culmination of the first ten years of the MCU, the film pits Earth's Mightiest Heroes and the Guardians of the Galaxy against the Mad Titan, Thanos, as he attempts to acquire the six Infinity Stones, granting him unlimited power in his quest to wipe out half of the life in the universe.
So, what did our writing team make of this latest peek at Infinity War? Here's our reactions:
Chris Cooper: Spider-Man and Drax the Destroyer listening to a conversation between Star-Lord and Iron Man. I share that look of awe on Holland's face. Could anyone imagine seeing that ten years ago when Fury first spoke to Stark? Lots of 'moments', many of which hint at hard times. But it still doesn't give much away. Where are Hawkeye, Ant-Man, and Wasp? Loved it. Very excited.
Matt Spencer-Skeen: The scene with Cap struggling against Thanos gave me chills. Love that it looks huge and still no idea where its really headed.
Andy Naylor: Ominous. Teasing at things and giving nothing away. It's increased my anticipation further.
Eric Bay-Andersen: Goosebumps. Pure goosebumps. I don't think I've been this excited for a film since The Dark Knight Rises. This is how you craft a trailer – intrigue, drama, money shots and a dollop of humour (but not so much that it overwhelms). I'm seriously hopes this surpasses the first Avengers to become my favourite Marvel movie.
Anghus Houvouras: Even the most stoic Marvel curmudgeon should be excited by this. This movie looks batshit crazy and fun. It feels like the title,shpuld be THANOS KILLS THE MARVEL UNIVERSE. I have a feeling this one ends badly for Earth's Mightiest Mortals. As to where Ant-Man and Hawkeye are, I'm guessing they might be the ones who have to help save the day in Avengers 4.
Luke Owen: I try not to watch trailers past the teasers, but I had to check this one out. And man, am I glad I did! That moment with Cap and Thanos was draw-droppingly great. It's incredible this film even exists, and I couldn't be more excited to see it.
Red Stewart: Outside of Thanos being nerfed, it looks awesome.
Tai Freligh: Wow. Some Avengers going to be dying. Looks pretty intense. There were a lot of great moments sprinkled throughout seeing heroes interacting with each other that have never happened on screen. Spider-Man, Star Lord and Iron Man? Yes, please. I just hope that the Thanos special effects aren't as distracting as Steppenwolf or Doomsday were!
Tom Beasley: I have this sudden, overwhelming desire to give Marvel all of my money. As much as the MCU has become ubiquitous and a lot of it has stopped being fresh and exciting, every fibre of superhero movie love in my being stood on end for this trailer. Every subsequent frame made me more excited to see what Marvel has to offer. This is gonna be something, that's for sure.
Martin Carr: This looks knee trembling good! I agree with Luke over the Cap America Thanos smack down, it's going to be blinding!
Sean Wilson: Mightily impressed. It conveys a genuine sense of Earth under siege and threads together the various sub-plots without giving anything else away. This really does feel like the culmination of a journey 10 years in the making. Most impressively, there's no way of knowing at all who's going to die yet (barring those who have films coming out in its wake).
Helen Murdoch: So many feels! The moment with Cap and Thanos is just perfection. Cannot wait.
Shaun Munro: I respect Marvel Studios for still making me feel like I've not seen the entire movie already. The Star-Lord/Iron Man zinger didn't really hit for me but the Spidey/Doctor Strange gag was great. The visuals look (mostly) strong, Thanos looks like he's finally getting his due. I'm still keeping my hype in check but I'd be surprised if this wasn't a top-5 MCU film.
Graeme Robertson: It looks like it good be a great bit of fun and not only feels like the culmination of ten years worth of story but I feel it will also fully cement the MCU as one of the great film franchises of all time, and this is only Part 1 of the finale. Too many moments to pick out, but the shot of Cap America taking on Thanos with his BARE FUCKING HANDS is too cool not to mention. In short, I'm quite excited for this one.
Danny Hale: I'm amazed and so grateful at how little they're giving away considering how spoilery some MCU trailers have been. And I am beyond excited. Thanos looks (and sounds) incredible and I'm so happy they seem to be giving Gamora and her relationship with Thanos a proper focus. I'm all in.
George Chrysostomou: Absolutely loved it. Glad we've come so far in the mcu and this really was a celebration of all of that. I'm interested to see why Hawkeye is still being hidden and I feel like there are a few more surprises in store, but this definitely continued the hype.
Chris Cooper: The more I think about it and the more I see Instagram posts of people's theories…this could go down so many ways. It's terribly exciting. But if Bucky is running towards a tear jerking final moment with Steve I'm going to cry.
Ricky Church: The first trailer took me a few viewings for me to feel it and get excited, but this one? This blew me away. There is so much to love about this trailer, from the Guardians interacting with the Avengers to all the money shots – Thanos in full armour, Thanos crushing the cub, Cap taking on Thanos with his bare hands – there was so much awesome! You definitely get the sense of the stakes and that this movie is (hopefully) not playing around with the danger. I liked the little sprinkles of humour we got and they worked very well, but I get the sense this will be one of Marvel's most, if not the most, dramatic and hopefully emotional films. April 26 can't get here fast enough!
So there you have it, as – like you, I'm sure – our anticipation for Avengers: Infinity War is through the roof following this epic trailer, and its release can't come fast enough! Let us know what you made of the trailer in the comments below…
An unprecedented cinematic journey ten years in the making and spanning the entire Marvel Cinematic Universe, Marvel Studios' "Avengers: Infinity War" brings to the screen the ultimate, deadliest showdown of all time. The Avengers and their Super Hero allies must be willing to sacrifice all in an attempt to defeat the powerful Thanos before his blitz of devastation and ruin puts an end to the universe.
Avengers: Infinity War opens on April 27th 2018 and will feature an all-star cast including Robert Downey Jr. (Iron Man), Chris Evans (Captain America), Mark Ruffalo (Hulk), Chris Hemsworth (Thor), Scarlett Johansson (Black Widow), Jeremy Renner (Hawkeye), Chadwick Boseman (Black Panther), Tom Holland (Spider-Man), Sebastian Stan (Winter Soldier), Anthony Mackie (Falcon), Paul Rudd (Ant-Man), Paul Bettany (Vision), Elizabeth Olsen (Scarlet Witch), Don Cheadle (War Machine), Josh Brolin (Thanos), Benedict Cumberbatch (Doctor Strange), Benedict Wong (Wong), Chris Pratt (Star-Lord), Zoe Saldana (Gamora), Dave Bautista (Drax), Bradley Cooper (Rocket), Sean Gunn (Rocket, Kraglin), Vin Diesel (Groot), Karen Gillan (Nebula), Pom Klementieff (Mantis), Tessa Thompson (Valkyrie), Tom Hiddleston (Loki), Samuel L. Jackson (Nick Fury), Cobie Smulders (Maria Hill), Benicio Del Toro (The Collector), Danai Gurira (Okoye), Winston Duke (M'Baku) and Peter Dinklage and Terry Notary in as-yet-unrevealed roles.
(Article originally appeared on Flickering Myth)