Tai Freligh interviews editor Matt Friedman about Palm Springs…
Palm Springs is a romantic comedy sci-fi wedding movie that Premiered at Sundance in January and touched off a bidding war that ultimately broke the record for highest sale out of the Festival. The previous record was 17.5M, Hulu and Neon bought it for $17,500,000.69. The film and sale were extensively covered in the industry trades. The film stars Andy Samberg, Cristin Milioti, and J.K. Simmons. It was produced by Andy Samberg and the Lonely Island Crew. It currently holds a 100% fresh rating on Rotten Tomatoes.
Matt Friedman is a film editor and long-standing AFI Faculty member, teaching 2nd year editing.  He lives in the Hollywood Hills with his wonderful husband Chris and their son.  I caught up with Matt to talk about the editing process for Palm Springs, his ACE nomination for The Farewell, and potential changes to the industry post-COVID 19.
Tell me about Palm Springs- what is the plot of this movie?
Palm Springs is a subversive, nihilistic sci-fi romantic wedding comedy. While that's true, it's also kind of a tongue in cheek joke, because the film doesn't try to be all those things, like a lot of cross genre movies do. At its heart, it's a story about two lost, stuck people who find each other and might… maybe… help each other to get unstuck. This film is BEST watched without knowing the plot, or seeing the trailer. So I don't want to get into too many plot details for those who want to see it completely fresh, which I highly highly recommend. Just suffice it to say that Palm Springs is both deeply heartfelt with moments of batshit crazy generously sprinkled in.
Why do you think the movie sparked such interest after screening at Sundance, resulting in the highest sale out of the festival ever?
The Sundance screening was an amazing screening… we couldn't have wished for a better reaction from the audience. There are always a lot of heavy films at Sundance that tackle really serious and important issues, and I think people were really ready at that point in the weekend to see something that made them laugh. What I don't think they were expecting, though, was that there was a real heart to the movie and how honestly the performances captured two people stuck in an immense amount of pain. The movie maintains a great balance between raw emotion and farce, and turns a lot of the romantic comedy conventions on their heads. And because the plot was kept tightly under wraps, the film just kept surprising people as it played out.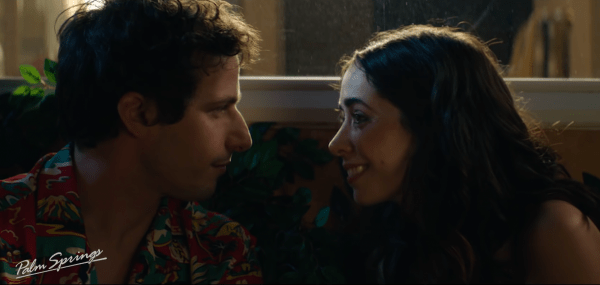 As of now, the film has a 100% score on Rotten Tomatoes. Why do you think that is?
I know, 100% is crazy. I never expect that to happen… I don't even think it's necessarily a good goal to have. People are really individually unique… they have different tastes, preferences, styles etc. In the past, I've found that the harder a film tries to cater to EVERYBODY, the more watered down it gets. It ends up being really special to no one. So a 100%, in a way, defies human psychology.
Don't get me wrong… it's hugely flattering, and really fulfilling to know that we gave so many people an enjoyable experience. And we always work really hard to get CLOSE to that number. One thing that I think helped get the film there was that it spoke to themes that are true and relatable to virtually everyone, no matter how different their tastes may be. Love is one of those themes. Family another. Being stuck. Palm Springs is built around a couple of these themes that are almost universally relatable.
The other key thing it has is honesty. The film knows exactly what it is and doesn't try to be something it isn't. Nor does it take itself too seriously. Both the director, Max Barbikow, and Andy Samberg as a producer, were very clear that the performances in the film had to be completely honest. To the actors' credit, we had great material to work with, and in the cutting room we took great care to make damn sure that nothing that felt emotionally dishonest or even in any way forced made it into the movie. Audiences hate BS, and we worked really hard to not have any of it, so I think that helped get that tomatometer up as well!
How did you get attached to this project as editor?
I had worked for one of the film's other producers, Dylan Sellers, on an earlier movie. It was a recut, actually, so he got to see a before and after version of what I did. Additionally, Palm Springs was tonally in this space that was kind of like The Farewell, where it was comedic but also dealt with a lot of pain and fear. That was a balance The Farewell landed nicely, so he introduced me to the Lonely Island people (I met Andy and Akiva), plus Max and Becky Sloviter, one of the film's other producers. We had a nice chat… I think there were burritos involved… then we went to work!
Did the director have a vision for the editing or was it something you collaborated on with him?
It's funny, but I actually pretty rarely talk specifically about "editing" with directors. We have a tremendous amount of discussions about story and character. Those discussions lead to editorial style decisions, but I've found that most directors would much rather talk about story and emotion than editing. Maybe I'm just drawing an overly picky semantic distinction. Every film I've edited has been a real collaboration. That back and forth process is immensely important. We all have blind spots, and that collaboration helps find them. Similarly, in a good director/editor collaboration, you both push each other to keep making the film better and better. Ideas can build and grow as you bounce them back and forth.
What was your approach to editing this film?
My approach to every film is the same, and I can sum it up in just three words: "Every frame matters." I've been teaching that in my classes at AFI for almost ten years now. I scrutinize EVERYTHING that's going into the movie, and if it's not actively moving the story forward, I cut it out. This attention goes down to things as small and seemingly insignificant as eye blinks, hesitations, and breaths. And yes, even down to single, individual frames. Even a film like The Farewell… where there are long moments of nothing happening… those moments of no action carry immense meaning. And they were timed exactly to the frame to convey precisely the meaning we wanted them to, and once that was done, we cut.
Beyond that, I'm acutely aware of performance, because performance leads to emotion, and emotion is what audiences go to movies to experience. That emotion can be laughter, excitement, sadness, any number of things. You can completely fuck up a good performance in editing. It's an immense responsibility that I don't take lightly.
When I focus on those things, and don't ever let that focus falter, I find that the post process becomes easy. It's painstaking work, but not hard.
What is your general philosophy when it comes to film editing?
I spoke to this above, but I can add that I also think good communication is crucial. I talk with directors a LOT about what's going through characters' minds at key points in the movie. If I don't know what each character is thinking inside their head, there's no way I can edit the film correctly. What's most interesting in performances is often NOT the lines that the actor is speaking, but watching them think in those pauses between lines. Watching them make the decisions that they make, right or wrong. And to tell that story, I need to be absolutely certain I know exactly what's going through each character's head. If the director and actor shot it one way on set, but I cut it a slightly different way, then that moment becomes "mushy." It's not as sharp as it should be.
Talk about the ACE nomination you received for editing The Farewell?
When I first heard about the nomination, I was obviously really excited. It's always nice, and gratifying, to have your work recognized. But when I showed up for the awards dinner, that excitement shifted to an utterly humbling experience. Being in that room, with all those amazing, storied editors. Legends, really. It was overwhelming. I mean these people had cut some of the greatest films of all time. I kept thinking, "This has to be a mistake. Me? Really?"
That's when I had an unexpected realization. You know how when people get up and receive awards, in their speech they often say something like, "Just being nominated is enough of an honor?" I always thought that was BS. But it's actually true… It was so honoring and humbling that I didn't care a bit that The Farewell didn't win. I know no one's going to believe that, just like I didn't believe that, but it really is surprisingly true.
You were also invited to join the American Cinema Editors. Did you and if so, what has that been like so far?
I did! After the nomination they extended the invitation to join, and I'd be bonkers not to accept that! So yeah, now I'm Matthew Friedman, ACE. Because of COVID they're postponing the induction ceremony, so I haven't had a chance to experience much. But it is, likewise, an honor!
You have been teaching at the American Film Institute for some time now. How has Coronavirus impacted AFI's programs?
It was challenging. Like many schools, we had to move to a distance learning model. In my class, talking about the editing of the fellow's thesis films, we had the additional challenge of "How do you focus in on a single brief moment… an individual cut… the juxtaposition of two images." It just wouldn't work to give everyone a specific time code for a specific moment, wait for them to go there, play it, etc. We needed everyone to be able to watch the same clip at the same time, in sync. In the end the folks at Cospective helped us out with software that allowed every person in the Zoom meeting to watch the same video feed at the same time… without buffering or playback issues. That made it possible to continue the class. But I certainly missed being in the same physical room with everyone as we had our discussions.
It looks like the film industry is starting to open back up again. What kinds of things do you think will be in place to ensure productions are safe?
Well, from what I'm reading it's going to be a lot about testing. Over and over. In post we have it relatively easy… we're isolated by the nature of our work. One of our bigger challenges will be test screening films. Getting audience reactions early in the process as we're still working is really important. And for now, at least, that's going to be much harder to do.
What are some of your other current or recently completed projects?
I'm currently in post production on a film called The Starling, directed by Ted Melfi. It stars Melissa McCarthy, Kevin Kline, Chris O'Dowd, and Timothy Olyphant. It's more dramatic than Palm Springs, but it's still a comedy, about a couple who experienced a horrific loss and are trying to get unstuck in their lives. (Do you sense a theme forming for me?) It's a Netflix film that will be coming out in theaters later this year.
When carefree Nyles (Andy Samberg) and reluctant maid of honor Sarah (Cristin Milioti) have a chance encounter at a Palm Springs wedding, things get complicated when they find themselves unable to escape the venue, themselves, or each other.
The film stars Andy Samberg, Cristin Milioti, J.K. Simmons, Meredith Hagner, Camila Mendes, Tyler Hoechlin, and Peter Gallagher.
PALM SPRINGS is directed by Max Barbakow and written by Andy Siara. The film is produced by Andy Samberg, Becky Sloviter, Akiva Schaffer, Jorma Taccone, Dylan Sellers, and Chris Parker, and Gabby Revilla Lugo serves as executive producer. The film is produced by Limelight and Lonely Island Classics with Neon serving as the theatrical distributor.
The movie will premiere on Hulu on July 10th.
We thank Matt Friedman for taking the time to chat with us and look forward to seeing Palm Springs on Hulu!  Matt can be found on the IMDb.
Tai Freligh is a Los Angeles based writer and can be followed on Twitter, Facebook and Instagram and can be found on his website too.
Photo Credits: Hulu Originals
(article originally appeared on Flickering Myth)